Prinoth - Going Where No Groomer Has Gone Before
Lagt til av: Espen Børresen | publisert: 11.12.2014
One of the biggest names in snow grooming is introducing a new terrain park groomer this winter — it's so new in fact, that the machine doesn't even have a name yet.
The keenly anticipated groomer platform from Prinoth sports a new look and promises better performance. It's also packed with brand-new features guaranteed to make even the most crusty terrain park builder swoon.

The groomer won't be going into production just yet, but the industry will get a preview look at a handful of demonstrations that Prinoth is staging at different ski locations this season.




"We will be having five demo vehicles that are going to be running throughout North America this winter," says Jean-Claude Perreault, Prinoth's vice-president of Sales. The plan, he says, is to do a very targeted introduction of the new platform with different customers to build up anticipation in the ski industry.

The move follows the introduction of the Bison XPT park groomer by Prinoth just last winter. According to Perreault, it's a natural progression in the company's commitment to providing exceptional machines for terrain park building and maintenance.

"The Bison XPT was introduced last year as an evolution to the Bison X," explains Perreault, adding that the Bison X set the standard for terrain park groomers when it first entered the market. "Now the XPT version is bringing a bit more to the table, and the reaction has been very good," he says.

"With this new model, we're going even a step further into areas that really are different than what has been offered in the past," says Perreault. "We have some new features on this vehicle that are just going to blow everyone's mind. It's going to be great."

New Tier 4 Engine
Prinoth's new platform is being developed with the new Tier 4 engine technology, and was necessitated by new engine emissions regulations from the U.S. Environmental Protection Agency. These new engines, that Prinoth calls "Clean Motion" will reduce dramatically the NOx emissions and diesel particles. This new platform will provide the first groomers with Tier 4 final engines to hit the snow in North America.

The new model will also replace the company's existing groomers, the Bison and the BR 350. "This is a very big change for vehicle manufacturers to go from Tier 3 engines to Tier 4 engines," says Perreault. "We decided that while going to Tier 4 to take the opportunity at the same time to combine these two models that were playing in the same field and create a new vehicle with better performance, a new engine, and a lot of new features for the park industry.

"We really have the park needs in mind from the start, so we were able to design in things that weren't possible before," says Perreault. He points to Prinoth's relationship with Snow Park Technologies as a big reason why.

The two companies announced last year they were forging a long-term partnership related to the development and marketing of Prinoth snow groomers dedicated to terrain park and pipe building. Snow Park Technologies is one of the leading names in snow sports, having designed and built hundreds of Winter X games courses and other competition facilities the world over.




"We've worked with them to design what the snow park users want, and what [groomer operators] have to have on a vehicles to make their lives easier," says Perreault. "Everything was developed with these snow park experts to make sure that we answered the snow park needs."

One feature that will really enthuse park groomer users, says Perreault, is a new sliding operator seat that can move sideways within the cab. "The driver can sit on the left-hand side in the cab to do precise cutting of features or to do half-pipe grinding, but then they'll also be able to slide to the center of the cab to do more general pushing and for when they want to have broader visibility," he says.

Philippe Gosselin, Prinoth's marketing manager for North America, says the new vehicle is in final stages of development, but promises it won't look like or even operate like any groomer the company has produced before.

"On a technical level, it's really outperforming anything that's out there presently," he says. "We have made lots of efforts with design firms to have something really good looking," Gosselin adds. Whatever its final form, the new Prinoth groomer is shaping up to be a huge hit with terrain park crowd.

"It's going to be just faster and easier to build the park than with what they used before," says Perreault. "We can really bring a lot to the table, more than just a machine that's pushing snow."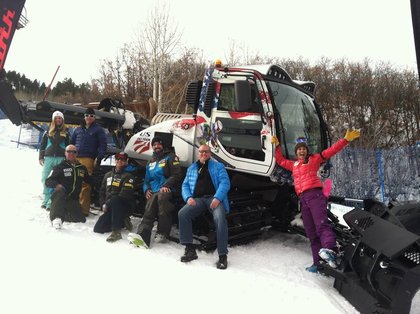 Features and Benefits of New Prinoth Park Groomer Platform
Reliability
•Lohman final drive and Bosch Rexroth transmission (both highly reliable for vehicle's life)
•Frame reinforcements (to prevent cracking)
•Thicker, more durable teeth on tiller rotor
•Integration of tiller combs through rubber molding (no more combs lost in the field)
•Overlap lacing track option (more reliable than hinges)

Productivity
•Park blade features include back blading teeth that enable tiller passes on kick off/landing areas to be reduced, and a blade straight cutter that permits more of the kick off/landing to be cut straight
•Enhanced horsepower (400 hp)
•Higher top travel speed (13 mph or 21 km/h)
•Higher power to weight ratio (resulting in higher grooming speed)
•Fewer refills of diesel exhaust fluid (DEF) required (one in three fuel tank fills)
•Automatic engine warm air selector (prevents air filter clogging with ice)

Visibility
•Snow deflectors below front windshield
•Low profile on rear aluminum deck (for unobstructed view of tiller rotor)
•Increased glass area on cab (for enhanced visibility)
•Sliding/pivoting seat feature (seat can slide from left to central position and be rotated 15 degrees)
•Rear corner LED light that is easily pivoted
•LED lighting option

Maneuverability
•Powertrain dropped 7/8 inch in the frame, creating lower center of gravity that results in same climbing capability as Bison, even with heavier T4F engine
•Anti-skip sprocket profile in rear wheel (less sprocket popping when turning)
•High torque final drive ratio (for better turning and snow pushing capabilities)
•Bosch Rexroth transmission provides higher relief pressure for better turning and snow pushing capabilities)
•Revised suspension set-up (for better turning capability)
•More force on roll and up/down cylinders on pushframe (increasing maneuverability of snow handling capability of front blade)
•Revised software set-up (providing shorter learning curve for operators and easy operation)

Maintenance
•Lohman final drive more efficient and requires less maintenance
•More time between engine oil changes (every 500 hours)
•Track bushing option (reduced need to re-torque track crosslinks)

Fuel Efficiency
•Fuel efficient Tier4 engine
•Bosch Rexroth transmission three per cent more efficient than Bison transmission
•Motor speed sensor on control display enables operator to monitor rotor speed on tiller

Comfort + Ergonomics
•Redesigned screen with more ergonomic touchpads positions
•Revised arm cushions shape (more rounded)
•Fuel and DEF filling positioned on the front of vehicle (no need to climb on track)
•Electronic track adjusting system for pressure relief
•New cab suspension system with improved vibration damping
•Double way sliding windows and sunroof (for enhanced air flow inside cab)
•Optional air conditioning with integrated ventilation (for easier activation)

Aesthetics
•Redesigned cab and cowling
•Vehicle snow guards
•Tiller snow guards, covers, carpet
•Red tiller rotor (for increased visibility)




Source: www.snowgroomingmag.com